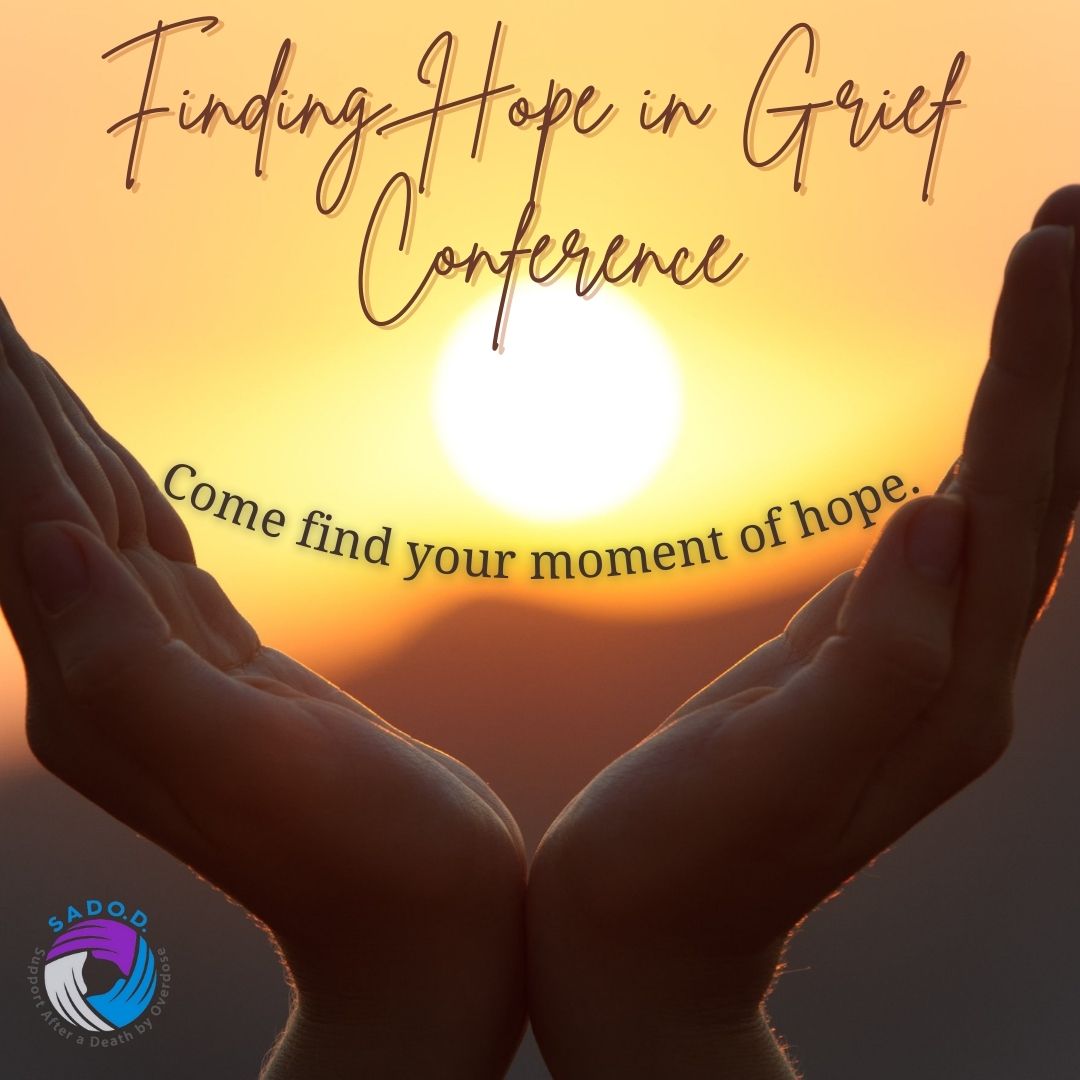 Inaugural Conference Finds Hope in Grief
By Luke Schmaltz, Editor, VOICES Newsletter 
"I don't work. I help people who are bereaved." - Glen Lord
The first annual Finding Hope in Grief Conference was held in Westborough, Massachusetts on October 22 and 23. The inaugural event was a powerful gathering of people affected by substance use disorder (SUD) and the grief which follows a death by overdose. 
The event's primary sponsor was the Bureau of Substance Addiction Services and was presented by SADOD (Support After Death by Overdose). The weekend was an expertly-orchestrated forum for discussing how deaths from substance use are impacting individuals, families, and communities in increasingly devastating ways. The event committee created a welcoming environment and a safe space for observing, learning, listening, sharing, grieving, and discovering. 
Many in attendance were bereaved, having lost a loved one, family member, friend, or coworker to substance-use-related causes.
Some folks present were in various stages of recovery from short-term to long-term and every step in between.
Also present was an abundance of direct service providers and Peer Grief Allies. 
Some attendees were in all three categories. 
A Weekend Led by Example
SADOD Director Glen Lord set the tone with a powerful opening address about loss, grief, and the ongoing struggle to face conditions which modern society has not equipped people to deal with. "I come from a family where death never happened. I didn't know what grief was until my son died, and I knew this is not how grief worked. America is the worst death-denying country in the world," he explained. 
Lord elaborated upon his vision for the weekend by stating, "We are here not because someone died, but because we loved them. Love is at the core of hope," he said. He then summarized his long-term goals with a powerful mission statement. "I want to change the culture of peer grief support in America."
Lord's colleagues, Tanya Lord and Franklin Cook, helped to establish an atmosphere of inclusion, approachability, and transparency. The result was a friendly setting which was ideal for removing barriers for the bereaved so that personal stories could be shared, people could openly grieve, and new alliances could be made. The atmosphere at the conference was unique, as Nicole Scarmeas, a panel presenter commented, "I loved how it felt to find your tribe. I've never been to a conference where everybody would just talk to you, even in the food line."  
Comprehensive discussions about the many facets of substance-use-related grief were covered in a variety of workshops. The panelists were the bereaved, the supportive and the deeply affected. Topics included discussions about helping the newly bereaved, current government policies, essential oils, grief from a male perspective, support for sibling loss, and many others. Attendees were able to learn, listen, grieve, and share while discovering the crucial role they can play in the world of peer grief support. 
SADOD's interactive platform for celebrating lost loved ones, Vision and Voices, was also introduced. An inspiring, visually captivating, and tastefully scored video by Alix Maria Taulbee was shown midday on Saturday. The video's message encourages the bereaved to submit paintings, drawings, poetry, prose, photographs, and videos – any sharable media that commemorates their lost loved one. 
Viewpoints from Direct Service Providers 
Meanwhile the "Grief Support for Direct Service Providers" workshop moderator Gabriel Quaglia recounts his experience: "I, Jill, and Nic (co-panelists) spoke about what we've seen as providers serving people in recovery and people who use drugs and where we think this is an important area to focus on," he said. "We then moved into workshop mode and opened up the floor to discuss what participants in the workshop are seeing and what they'd like to see for frontline workers. Throughout the workshop we interspersed information about groups and other services we will be offering soon." 
Anyone interested in learning more about direct service provider peer support can contact Quaglia, who serves as the SADOD Direct Care Service Provider Program Coordinator, at [email protected].
Support for Grandparents 
Kerry Bickford, SADOD's Grandparent Peer Grief Support Specialist, reported that one of the grandparents raising grandchildren with whom she works had a highly positive experience. "It was amazingly run, especially for your first one," the grandparent began. "Food was plentiful and a good variety. I was surprised that the Finding Hope in our Stories [workshop] was so interactive and was uncomfortable at first but Meghann Perry [speaker] had such a calming approach that relieved my nervousness and was able to share my story somewhat well. I related well to The Hardest Thing [workshop] having had three of my children embroiled in addiction at the same time," she explained. 
A Vision Realized
SADOD co-founder Franklin Cook was able to further realize a vision that was inspired years ago. "Pilot work for this was a solo flight in 2017, but I knew something big could happen," he said. It began to take shape when he pitched the idea to form SADOD to co-founders Glen and Tanya Lord. Then, when Peer Grief Ally and bereaved parent Louise Griffin suggested in the spring of 2021 that a grief conference was in order, another element of that vision was one step closer to becoming reality. Alas, it manifested when the Ballroom began filling up with guests for the first time. 
"The Finding Hope in Grief Conference is a testament to the healing nature of peer grief support," Cook began. "SADOD staff were far from the only people who delivered peer grief support to bereaved people at the conference. During the entire time we were together, peer grief support was delivered by every bereaved person in attendance to every other grieving person who was present. Anyone who came to the conference seeking help for their grief should be assured that, just by being there, they also helped others with their grief journey," he explained. 
Pinnacle Moments
The powerful interactions of the workshops and panels were accentuated and bookended by presentations in the main ballroom. These included a powerful candlelight ceremony orchestrated by Robyn Houston-Bean as well as a deeply moving "glow stick" ceremony for each attendees lost loved ones. The latter was a deeply moving event co-presented by Houston-Bean and Glen Lord. Gabriel Quaglia summed it up well, saying, "The candle and the glow stick ceremonies were beautiful and gave me the catharsis and experience I hadn't felt the last two years during Overdose Awareness Day."
Attendees were also treated to a live musical performance of a song entitled "A Broken Heart Has Love to Give." The piece was written specifically for the event with input from no less than 14 bereaved individuals. The song was composed, and the lyrical input arranged by celebrated musician Elanor Dubinsky. Accompanying her on guitar was Dario Acosta Teich with bereaved parent Kirk Anderson on accordion. A video montage of the song being composed among collaborators over many weeks was played, then the trio launched into a beautiful performance of the finished product. This moving composition covered the many nuances of the loss of a loved one and perfectly summed up the notion of finding hope in grief. There was not a dry eye in the house.