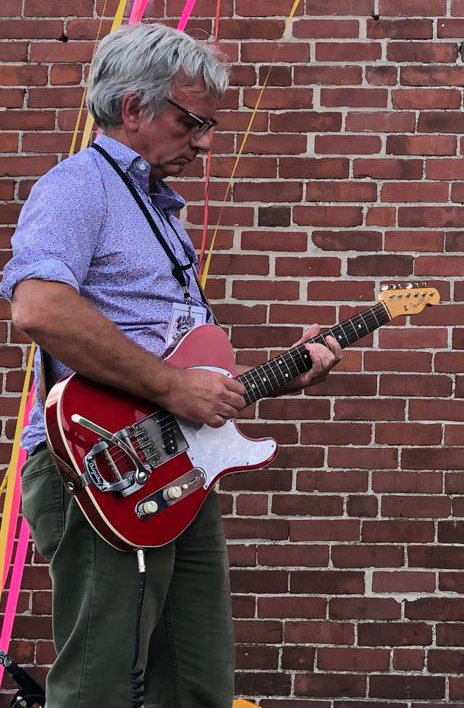 Father Honors Son Through Music
By Luke Schmaltz, VOICES Editor
Music has an incredible way of reaching through time, across space, and beyond barriers to connect people, to share moments, and to celebrate life and love. 
Kirk Anderson is a member of The Sun Will Rise Foundation, a peer grief support group for people bereaved by death from substance use.    
Anderson's son, Axel, had a pronounced love for music and he frequently posted songs from his favorite artists on social media. Today, one year and nine months after Axel was lost to a fentanyl overdose, his father is deeply thankful for the archive of music his son left behind. "Axel did a lot of posts on Facebook." Anderson begins, "Anyone who was his friend still has access to those posts. At least two-thirds of them were a song, so I have a playlist of 80 songs that Axel posted, and I listen to that over and over again. It's been a real gift for me," he explains. 
Anderson is a musician and a songwriter as well, and he was compelled to apply his musical gifts to write a song about what happened to Axel on New Year's Day, 2021. The composition is entitled "Godspeed," and is a deeply moving work brimming with overtones of grief and pain as well as undercurrents of courage and acceptance. "Godspeed, the wise man said life is just a ride. Godspeed, catch up with you on the other side," Anderson sings. 
While "Godspeed" was written for and about his son, Anderson can attest to the song's resonance with his peers who are also grieving. "Every once in a while, you write a song and someone goes, 'That's it, wow!' Even if it's only one person, it really makes you happy," he explains. "One of the members of The Sun Will Rise heard it and said, 'This song is great, you gotta listen to this!'"
Anderson's musical talents have been tapped for a special role in the upcoming Finding Hope in Grief Conference. He is contributing to the lyrical content of a song written by world-renowned musician and songwriter Eleanor Dubinsky. This special composition will be performed live at the conference by Dubinsky herself with Anderson sitting in on accordion. The song is a collaboration of the experience of 14 people, according to Anderson, who have all lost someone to substance use. Dubinsky was tasked with the monumental undertaking of distilling the lyrical input from 14 collaborators to hone a comprehensive message  
In addition to accordion, Anderson also plays guitar and is part of a Rhode Island-based, six-piece folk band called Consuelo's Revenge. He shares a lot in common with one band mate in particular named Ian. In 2018, Ian's son, Max, also overdosed on fentanyl. Thankfully, after many medical complications, Max survived. The two agree that the growing SUD crisis is affecting people in all communities and all segments of society. After 10 years together and two studio albums, the sextet hope to return to the studio for a third record, which will hopefully feature Anderson's song, "Godspeed."  
Anderson, a retired professor of French (Wheaton College), also channels his concern for others affected by SUD through activism and charity. "When I can find a way to honor Axel, I do it," he begins. "I've been giving my money to the Drug Policy Alliance because they are fighting the good fight against prohibition," he says. "Part of my fight is to do what I can to end the drug war because I think it's a terrible, terrible mistake." 
Anderson is also involved with Shatterproof, a Connecticut-based, nationwide organization dedicated to ending the stigma surrounding addiction. "Their focus is helping families who have addicted people [with]in them while fighting the stigma that blocks so many people from trying to get help," he explains. "At the same time, they are working to make sense of the chaos of treatment programs and to help people who need them choose a good one."
Anderson contributes to Shatterproof through fundraising campaigns. Recently, he participated in a 50-mile bicycling event and raised $4,600 in one afternoon through Facebook Fundraiser pledges. "It was a really wonderful experience for me," he begins. "I thought I was going to maybe raise $500 because I had never done anything like this. My friends just came out from everywhere and donated. I was really blown away," he says. 
Anderson's campaign was among the most successful of the event, which garnered a special moment of commemoration for Axel. "I was in the top 10, so they put my son's face on the Times Square marquee. That was a big day," he says. Anderson plans to continue this sort of participation, and now that COVID restrictions are lifted he is looking forward to more group-related events. "This year I am going to be doing a 5K walk in Boston with some friends of mine," he explains.