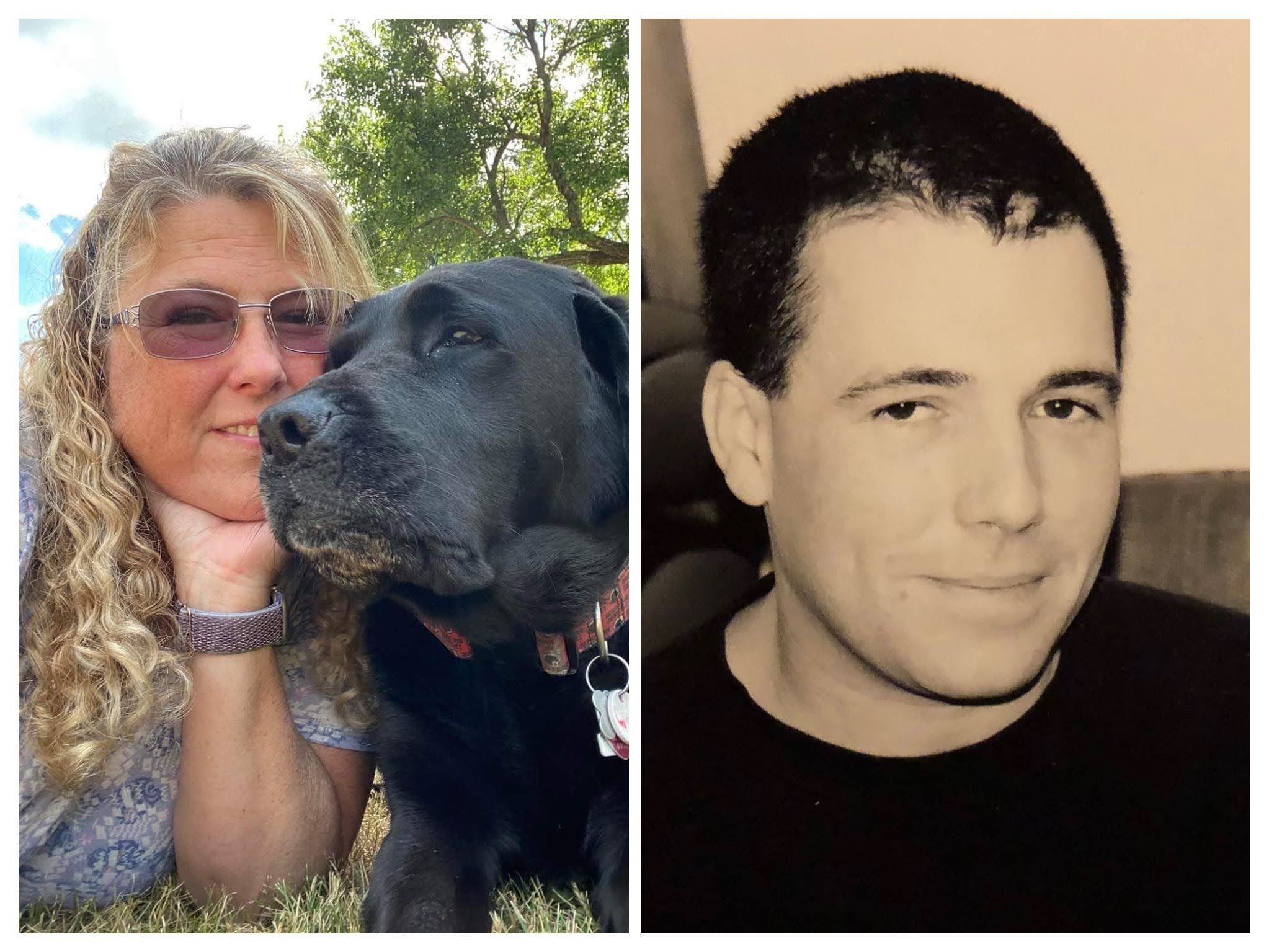 Peer Grief Helper Profile:

Judi Earnest
By Kerry J. Bickford, VOICES Editor
When Judi Earnest was growing up, she had a good relationship with her other brother, Michael."He was always struggling – and angry," she recalled - but years later they would learn that he had been harmed as a child and he never told anyone. She recalled his 16th birthday and how her parents had a belly dancer and served beer. She questioned it at the time, but her mother said "well I'd rather he did it here." Judi believes this explains a lot.
When she was a little older, she remembers a mutual friend offering her what she thought was a drag off a cigarette. Michael was furious because, as it turned out, it was weed and he was very protective of his little sister. Yet he would drink, get into trouble, do drugs, and the focus was always on him. "No one noticed," said Judi. "The siblings are forgotten." When her parents finally kicked Michael out at 18, they began to pay attention and Judi recalls wishing she was sick like her brother. 
Judi took the opportunity to talk to Michael when he was sober and asked him to show her his track marks and talk to him about his drug use. She said she learned more from these conversations with her brother than she had from any book, and she used it as a teachable moment with her children, since she wanted them to know the same thing could happen to them. She recalled one day when Michael offered to take their sister's baby down the street for a walk, and her 10-year-old daughter offered to go with him. Judi realized that her honesty had paid off and that her daughter, Tia, was concerned for the safety of both her uncle and her young cousin. Michael had a daughter of his own, Tammi, but because he and Tammi's mother were unable to care for her, Tammi's grandmother eventually gained custody. Some years later, everyone agreed to allow Judi and her husband to assume guardianship. So Tammi moved in with their family of four children at the age of 12 - which she continued to do until she turned 18.
As Michael approached his 30"s, he had been in and out of detox numerous times, and at one point, Judi learned that he overdosed three times in one night, which gave her the evidence she needed to safely section 35 him into a program. Still, it wasn't until another ten years later that he could make it stick – but he did. He entered detox, and a sober house in Attleboro that Judi described as "phenomenal." This time, he was able to go for a year without using and even managed to get his own apartment and his license back with a breathalyzer ignition. (?) "I'm so grateful for that time," said Judi.
In 2016, Judi's family booked a cruise with all the kids and Judi's mother (her father had died years earlier), and newly sober brother. But tragically, her mother died while on board. Michael asked Judi what he could do to help. She recalls saying "stay sober." Although he did temporarily, there began to be signs that he might have relapsed. One day Michael told her his breathalyzer was "glitching" and asked her to breathe into it so he could start his car. When she adamantly refused, he left the car running for 2.5 hours to avoid breathing into it while he attended a kids Color Guard performance. Things went downhill from there and Judi says she had done everything from enabling to tough love when she finally decided to just love her imperfect brother as he was. When the call came letting them know he had died, she was relieved by the initial report saying he had died as a result of heart disease exacerbated by SUD. However, when she went to retrieve the ashes a week or so later, there was a note attached that reported the cause of death was 100% fentanyl poisoning. No one had told her this - and she was angry. "I wanted to throw (the ashes) out the window," said Judi. 
In the aftermath of Michael's death, Judi took her niece (his daughter) for counseling at the Attachment Institute in Worcester. She was so focused on her niece and her loss, she neglected to mention that her niece's father was her own brother. The therapist confronted Judi with this realization and pointed out her tendency to put everyone else first, in this case, her niece. 
Judi's own experience with trauma-focused therapy helped her to understand what was going on, and she knew how important it was for her to reach out for support with what she had been through. She read about supper with siblings at Gilly's House and she and her sister decided to attend. The group was great - but the facilitator did not have the life experience of having lost a sibling. When Gilly's House director Barbara Gillmeister asked Judi if she would facilitate, she eagerly accepted. What began with Supper With Siblings has morphed into three meetings a month, and siblings are invited to attend one of all of them. The first Tuesday is a meeting for Siblings Supporting Siblings (S3) which meets in person, while the second Tuesday is MJB named after her brother (using his initials). The third Tuesday is Supper With Siblings and includes dinner and a conversation about what it is like to grieve a sibling. The group has been so healing for Judi as she listens to others describe the feelings she has had her whole life about being the sibling. Her certified service dog "Gilbert," who accompanies her to appointments and to court, is also a regular member of the S3 group in Milford. Together, with Gilbert's help, she supports others as they, in turn, support her, and she is grateful for this healing community.
Judi and her family recently moved and she was hoping the dragonfly sightings that happened regularly in their previous home would continue in their new home. On this past 4th of July, her wish came true as not just one - but three dragonflies touched down for a visit before her very eyes - making her wonder if it was her mother, her father, and Michael letting her know that they are ok and that they hope she is too. "Pay attention to the signs," said Judi.