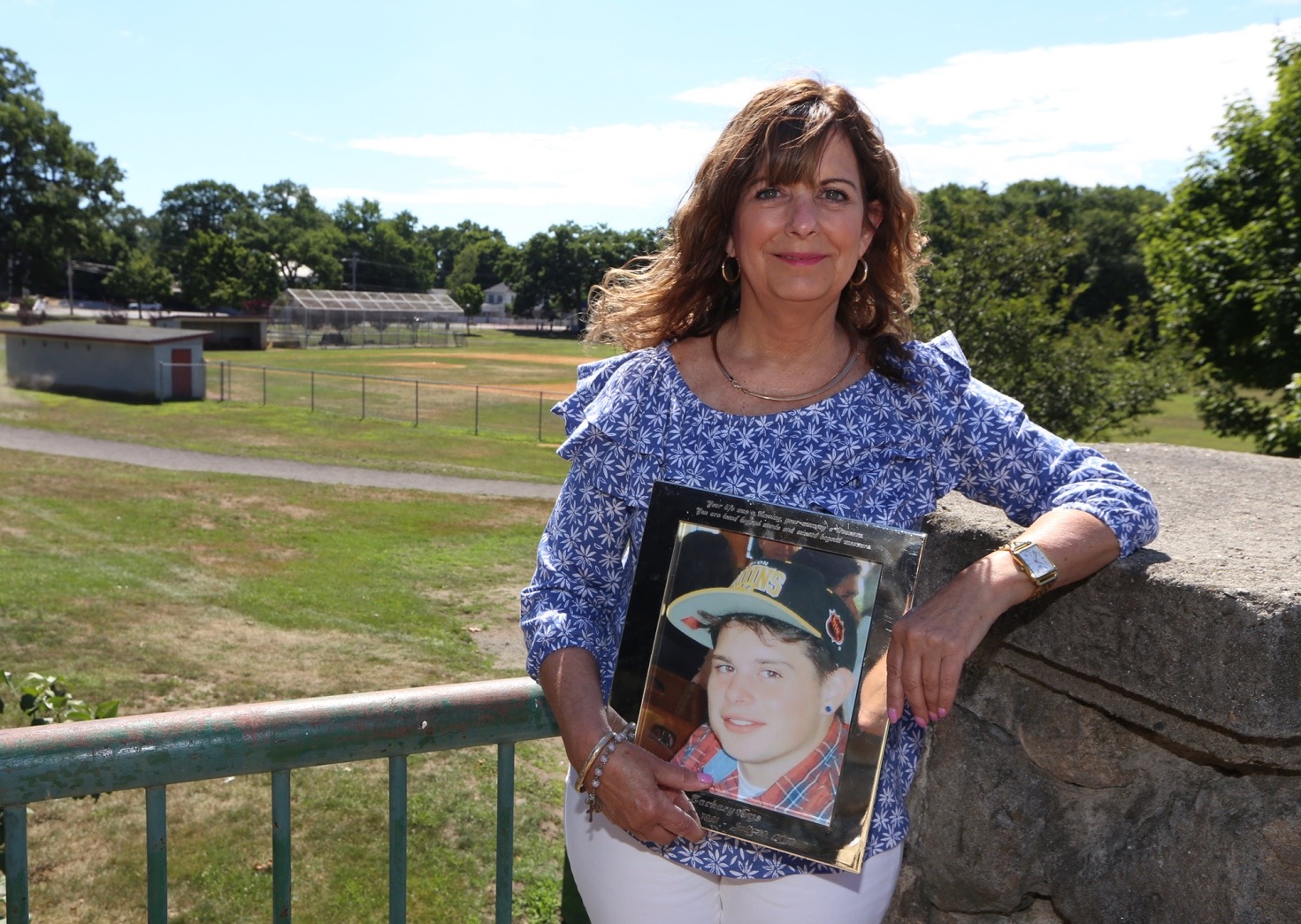 Peer Grief Helper Profile: Louise Griffin
By Kerry J. Bickford, VOICES Editor
Louise Griffin smiled in a recent conversation as she recalled her son Zachary as goofy, compassionate, thoughtful, and precocious. The youngest of three, Zachary was into sports – and ironically, like so many others, began his downhill journey with opiates after breaking an ankle doing what he loved to do. As she looks back now, Louise knew that it was the beginning of the end. But she did not give up then, nor did Zack, and as long as there was hope, he still had a chance.
The most disturbing part of this story is that Louise did everything in her power to intercept Zachary's slow descent into the captivity of a disease that was relentless. This included being 100% transparent with his school counselor, the superintendent, and even the resource officer - but their response was to shrug their shoulders and throw up their hands, offering zero support. At that time (2010) there were not enough local resources for teenagers, and the stigma of addiction was a force to be reckoned with. Louise began to feel like Zachary was now a "marked kid."
 So Louise did her own research and finally approached Children's Hospital in Boston, where she was told that he "was not addicted." He attended an 8-week outpatient program there which slowed him down, but not for long. He was soon off and running so Louise desperately called Lowell House (she is now on their board), who refused to accept him because of his age (he was only 17).
At about this time, Zack lost his best friend, who also happened to be the captain of the school's wrestling team, to an overdose. The school – now realizing that they did, indeed, have a problem - called on Joanne Peterson from Learn to Cope for help, and Louise decided it was time for some support for herself. She began attending the Salem Learn to Cope group and Al-Anon. "I had been feeling so much shame and stigma," said Louise, "and I finally found a community and some tools to navigate resources." She was no longer alone.
One of the first things Louise was advised to do, was file a section 35 to mandate Zack into treatment, an ordeal that she described as "traumatizing." Once again the court denied her petition due to Zachary's age and Louise broke down in tears. Eventually, she was able to get him committed (see Editor's Note) when he was old enough, and she began to see "glimmers of hope" each time he entered into a period of sobriety – three months at a time. Still, he couldn't hold down a job for long and he was in and out of programs that Louise emptied her bank account for him to attend. Anything that offered him a chance to recover was a chance that he might just turn the corner, but at this point, he had progressed to IV drugs.
In the midst of all this, Louise formed a relationship with a group of peers from Al-Anon and Learn to Cope - and they began to meet regularly for coffee. It was a lifeline for all of them - and even more so when, one after another, they lost their sons to deaths by overdose.
Zack's final "tour of duty" (Louise's words) was Easter weekend in 2013. He was so visibly incapacitated by substances, Louise was alarmed. "You're going tomorrow," she said to Zack, and she called two programs – telling him to "pick one." He picked the Florida program, one he had previously attended and Louise still remembers the eight weeks of peace "like it happened yesterday." But then came the call that he had been thrown out for fighting, and temporarily ended up in his sponsor's home, transferring quickly to another one. He went out to the grocery store after receiving $30 to purchase food, and then back up to his room, but he never came back down. He was finally found the next day well after 11 AM when someone checked in on him. Louise returned home later that same day to two police cruisers on her street - praying that they weren't there for her. But they were, and she received the news that no parent should ever have to hear. Her precious son had died.
Louise was despondent. She went into his room to clean - and found needles everywhere. "I felt like I was in a bad dream and kept hoping I would wake up. How could I have been in such denial? I threw everything away on impulse. I was furious and then I went numb."
Three months later, on what would have been Zack's 22nd birthday, she and her family decided to throw him a party anyway. "We all loved him," she said. "He was the nicest kid – a good kid." So they threw a big celebration to honor his life after which they all went to the cemetery and asked themselves "what should we do to bring awareness to this disease?" Instead of "hiding in shame," they decided to start a foundation, identifying financial access as a major barrier to treatment. People who can't afford treatment can apply for help so they don't "lose their hope."
They organized an annual golf tournament under Zack's Team, a non-profit that works with 15 sober houses in Massachusetts, New Hampshire, and Maine, to offer the first months' rent for people who are newly sober. They also sponsor two "Zack's Houses" in Lowell and Portland, Maine. 
In addition to her foundational work, Louise is a peer grief helper and a Peer Grief Ally for SADOD and currently sits on the conference planning committee for our upcoming October event– Finding Hope in Grief. It is a theme that is important to her and that connects all of her work for those affected by substance use loss. She waves it high – like a banner - keeping Zachary's spirit alive and hoping to prevent the devastation of another family's loss.
Editor's Note: Some people see involuntary treatment as a life-saving action, but this usage of the word "committed" is objectionable to many people because they believe taking away a person's freedom by confining them in a facility against their will is a violent act.