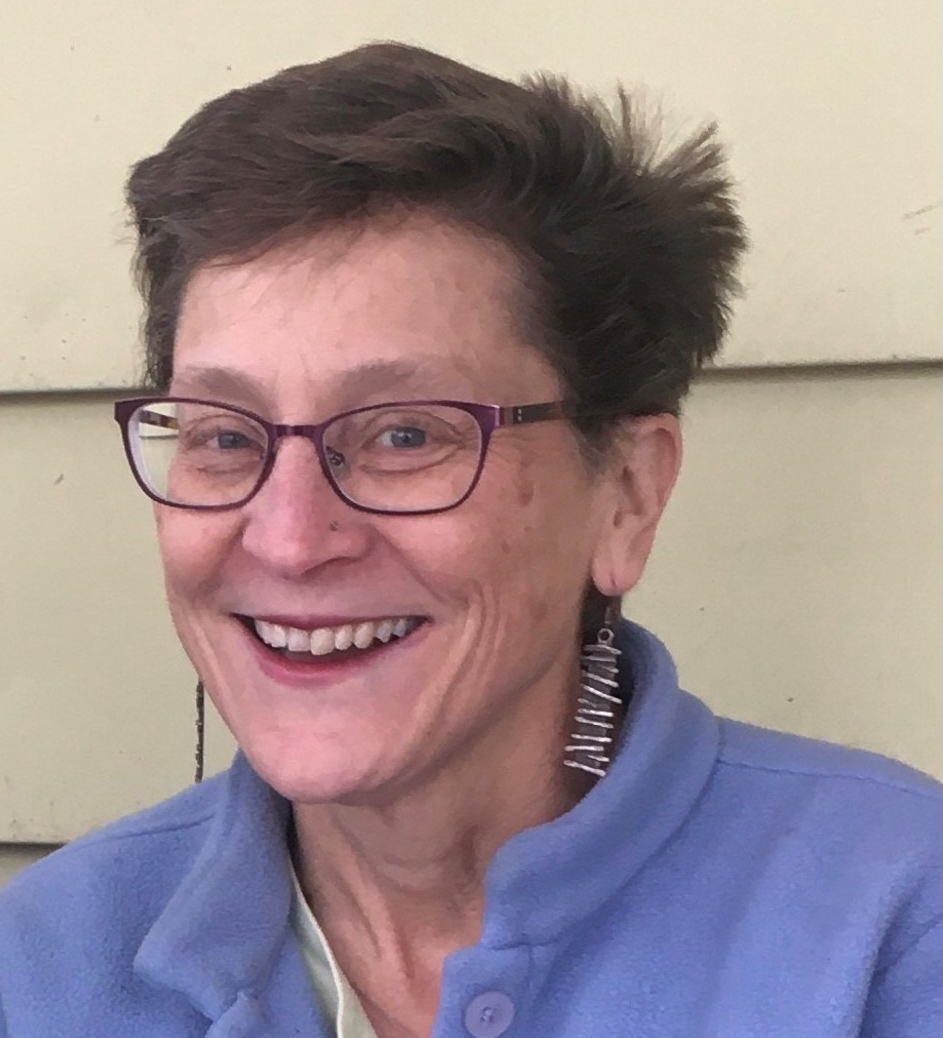 Peer Grief Helper Profile: Laurie Loisel 
By Kerry J. Bickford, VOICES Editor
After 30 years as a reporter and editor for the Daily Hampshire Gazette, Laurie Loisel was ready for a change so in 2019, she went to work for the Northwestern District Attorney's office. Although she was already aware of the opioid epidemic, she began talking to families who had "been left behind" by an overdose death in her capacity as director of community outreach and education. Laurie was no stranger to grief although she hadn't personally experienced this specific kind of loss. Her brother died tragically in a fire at the age of 27, and her father died by suicide in 2012. Her empathy for the bereaved was well-honed by a heartbreaking personal journey.
At the time of her brother's death in 1983, Laurie was not aware of and did not receive any support with her grief. She felt isolated and numb. "Like I wasn't part of this world," she said. But in 2012, when her father died, Laurie attended a bereavement group sponsored by Hospice, along with a writing group to help cope with both losses, which made all the difference. She liked being part of a community of people who understood and could talk openly about grief. In 2019, while working with the Hampshire HOPE opioid overdose prevention coalition, Loisel offered a week-long writing workshop for people impacted by the opioid crisis. At about this time, she also set out to work with Carol Lollis, photo editor for the Gazette with whom she had previously worked, on collaborating on a series focused on families who had suffered an overdose loss. Her knowledge of the opioid epidemic, personal experience with grief, history of writing and reporting, and desire to help amplify the voices of grief-stricken loved ones and reduce stigma led her to agree to participate in this venture. 
After completing a summer of research and interviews, the four-day collaborative series appeared in the newspaper in October of 2019. Laurie worked hard to help the community tell the story of the overdose epidemic and to help humanize those who had been caught up in a lethal wave of addiction from which they had not been able to escape. A year later, Loisel expanded that series into a book, Those Left Behind: The Secret Club Inside the Nation's Opioid Epidemic. 
At this point Laurie was sure she wanted to offer support to others to help them process their grief in a caring community much like she had. She recognized something inside her that was "not afraid" to witness the sadness of others, and her interest was piqued even more when she learned about an upcoming peer grief group facilitator training offered by SADOD in the fall of 2019. Following that two-day training, Laurie reached out to Amy Horowitz to co-facilitate, and the Northampton Recovery Center was immediately on board to host this much needed peer grief support group. Plans to hold the first meeting in March 2020 were temporarily foiled by the restrictions of COVID-19, but not for long. A quick pivot to a Zoom format resulted in a one-month delay, but the group has been meeting monthly for over a year now. Like most groups, they are currently working on a transition back to in-person or a hybrid option in the near future.
Laurie said embarking on this journey has continued to help her process her own grief, while helping others do the same by telling their collective stories. She hopes that people begin to realize that "loss and sorrow are not contagious" and there are things we can all do to help people who are mourning the loss of someone they love. Here are some important examples from her book:
Be brave. Don't avoid your friend, family member or acquaintance because you are uncomfortable. They already feel acutely alone and bereft.
Be kind. Being in the world after a death can feel harsh and disorienting. A warm gesture can't fix things, but it can provide solace.
Be real. Their sorrow is deep and real. Trying to cheer them up could inadvertently make them feel their grief is being minimized or that you don't want to hear about it.
Give time. Understand that grief is not something one gets through, or even ever really finishes. It is a lifelong process of accepting and integrating a loss. There is healing, but wounds and scars remain tender.
Show up. There are many painful tasks facing people in this situation. You could offer to clean out or help clean out an apartment. Maybe there are other chores you could take or paperwork you could attend to. There are burial and service arrangements to be made. Help with those might be most welcome.
Be tender. That means choosing your words with care and avoiding platitudes. You might even put those on a do-not-say list: "I know how you feel." "Everything happens for a reason." "She is in a better place now." "It will get easier." "At least you have other children."
The list goes on and can be found in the final chapter of Those Left Behind. These suggestions come from many hours of grief groups, interviews and listening to loved ones with first-hand experience who want to help us navigate the difficult but critical conversations around substance-use disorder, overdose loss and traumatic grief. Laurie Loisel, also a survivor of grief, has turned her own pain inside out to create a transparency we can all learn from.
To order a copy of the book, please visit the link above