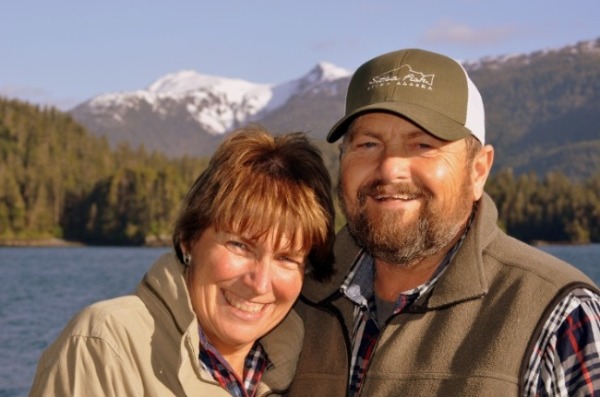 Peer Helper Profile: Colleen & Gordon Bullard
By Kerry J. Bickford, VOICES Editor
Fourteen months after Cory Bullard completed an intensive, multi-step recovery program -- landing his first professional job as a substance abuse counselor -- Colleen and Gordon Bullard recall feeling like "we can finally exhale." It was a pinnacle moment for them as a family, and Cory came home for the weekend to celebrate this milestone and a new beginning.
Cory, recalled his parents, was a deep "intuitive" thinker, a hiker, a lover of the outdoors, and the oldest of three children. His childhood years passed joyfully as he achieved National Honor Society status at St. John's Preparatory School and kept busy and healthy playing sports, hiking, fishing, and climbing mountains with his family. 
Following graduation from high school, Cory went off to James Madison University. His life seemed typical until he was diagnosed with mononucleosis in the fall of his sophomore year. Cory finished the semester, but felt too exhausted to continue his studies in the spring. He went home to focus on healing and eventually went to work as a UPS driver and moved to Maine with his girlfriend. At this point, he suffered a second setback, resulting in 5 fractured vertebrae and a prescription for opioids  and ultimately leading him down a slippery slope to addiction.
When it became evident that he was in trouble, he returned home again and committed himself to a local Intensive Outpatient Program, and continued to work as a UPS driver. At the same time, Gordon and Colleen began attending a local Learn to Cope meeting and taking comfort in the fact that UPS regularly drug tests. It seemed like they had dodged a bullet.
It would be two more years before they realized that Cory was in serious trouble again, although there were plenty of clues that troubled his family. When he finally asked for help, Colleen and Gordon mobilized quickly. A focused recovery plan fell into place following detox. He waited patiently for a bed at North Cottage, where he spent the next 15 months completing every step of their recovery program. His life began to fall back into place, as Cory earned a certificate in Substance Abuse Counseling at UMass Boston, and he was only a few short days away from the first day of his new job at Spectrum Health. Tragically, this is where his story ends. 
At 5:30 in the morning after a visit from Cory, Gordon's phone rang. It was the emergency room calling with devastating news: Cory had overdosed on fentanyl and was on life support. Gordon and Colleen describe the denial and utter disbelief of that moment -- and the days that followed, ultimately resulting in the death of their oldest, beloved son 72 hours later. They were beyond devastated.
It is difficult to transition from addiction support to support after an overdose death. Colleen and Gordon initially went back to their LTC meeting, but as many others have also described, they felt awkward. They did not want to represent the worst outcome for others who still had hope, so they eventually decided to do something different. 
They focused their grief in a substantial effort to keep their son's memory alive and to try to bring meaning to his death. Six months after Cory died, on Valentine's Day in 2018, they formed the CCB Foundation, whose mission is to provide education, hope, and support for those affected by the disease of addiction. The foundation offers services that might not be covered by insurance or federal programs as well as vocational support like bus passes and training to help someone in recovery get back on their feet.
"It's what kept us sane and in touch with the community," says Colleen.
Seven months later, on Cory's birthday, the Bullard family and friends conducted their first fundraiser. The diversity of attendees "broke all the stereotypes," said Gordon and Colleen, and was living proof that addiction can and does happen to anyone. 
The CCB Foundation partnered with the Gavin Foundation, North Cottage, The Link House, and Phoenix Sports and hosted a summer corn hole tournament at St. John's Prep and a fall trivia night in 2019. Both resulted in excellent community participation and spirit. Through the generosity of their donors and supporters, they were able to raise tens of thousands of dollars to help people in recovery access the services they so desperately need. 
At the same time, Colleen and Gordon decided to establish a peer grief support group aptly named Learning to Cope with Grief (with the blessing of the Learn to Cope team) for the specific purpose of helping those who have lost a loved one to an overdose death.
"It was a good decision because it helped us focus outside ourselves," says Colleen. 
"You hear stories and realize you are not crazy when you hear similar perspectives from others.
They acknowledge that while they each grieve differently, planning and conducting support for others who are also navigating this "life-changing event" gives them a common purpose and keeps them "on the same page" — with Cory guiding them every step of the way.
"The silver lining is that it's made me a better person," says Gordon. "There has to be a reason for all of this."
Whatever the reason, the Bullards have transformed their grief into a mission of hope for so many who are struggling. They took something awful and turned it into an opportunity to help people in recovery and support others, like them, who are grieving the loss of a death by overdose. Together, they exemplify courage and grace in the worst of circumstances, and every act they commit is an act of hope for a more compassionate community.